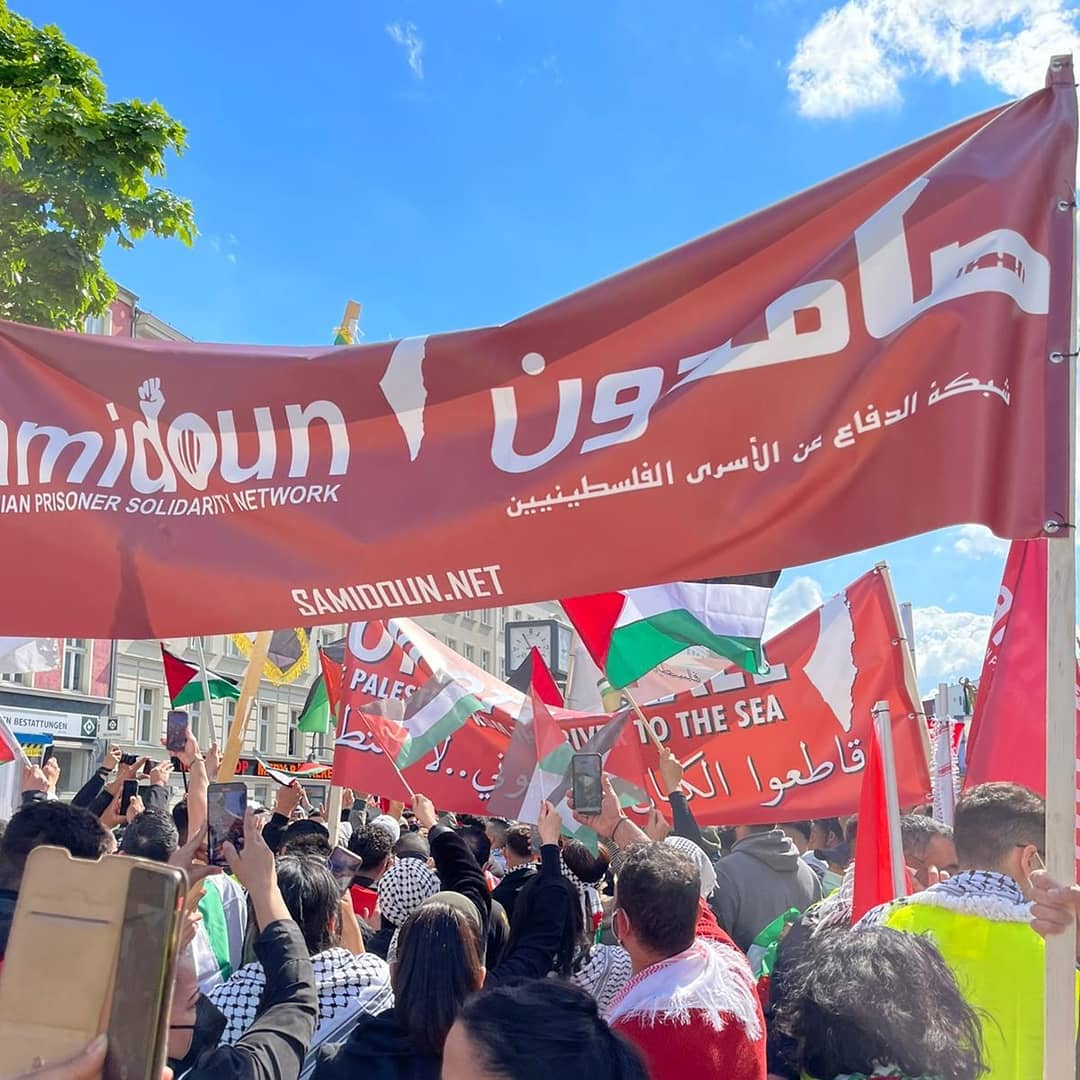 Dear all friends and supporters of Palestine, 
Today we mark one year on the Israeli assault on Gaza, taking place simultaneously with land confiscation and forced displacement in Jerusalem and ongoing home demolitions, colonial settlement, mass imprisonment, siege and killings throughout occupied Palestine -- not to mention the denial of the right to return for Palestinian refugees forced from their homes 74 years ago in the Nakba. 
This aggression was met with a powerful response by the Palestinian people, inside and outside Palestine, their resistance and their popular movements. The Unity Intifada, or the Battle of Seif al-Quds, not only once again revealed the brutality of the colonial occupier, but also highlighted the strength and unity of the Palestinian people and the promise of liberation, from the river to the sea. From al-Lyd to Haifa to Jenin to Ramallah to Gaza to Bir al-Saba, Palestinians rose up to defend their land and people. 
At the same time, Palestinians in exile and diaspora, the Arab peoples, and international social justice movements took to the streets in massive numbers, marking the anniversary of the Nakba and the Week of Palestinian struggle with demonstrations in the thousands and tens of thousands in major cities and small towns around the world.
One year later, Palestinians and their supporters continue to fight back and defeat imperialism, Zionism and their reactionary agents. As we approach the 2022 Week of Palestinian Struggle, let's get ready to fight back everywhere. Read below for more information on the targeting of Samidoun and Palestinian writer Khaled Barakat in Canada, and check out the full list of actions and demonstrations. If your action isn't listed, please email us at samidoun@samidoun.net to be included!
This is a moment that must compel us to action. The victories of Collectif Palestine Vaincra and Olivia Zemor in France are first steps on the road to the great victory of the Palestinian people everywhere. The attacks of the oppressor continue, but so, too, does the resistance, from the prisons, the refugee camps, besieged Gaza, and everywhere Palestinians and the people of the world yearn for liberation. 
In solidarity,
Samidoun Paletinian Prisoner Solidarity Network
Join over 60 organizations and thousands of people to stop the smears targeting Palestinian advocacy and defend Khaled Barakat
Samidoun Palestinian Prisoner Solidarity Network condemns in the strongest terms the smear campaign targeting Palestinian Canadian leftist writer and community organizer Khaled Barakat as well as the work of Samidoun, by the right-wing National Post, intentionally forwarding the agenda of pro-Israel lobby organizations in Canada. It is clear that this is not a random attack; the content, far from its packaging, is in reality warmed-over retreads of various attacks from the Israeli occupation regime and Zionist publications over the years, with an added attempt to sensationally criminalize and stigmatize Palestinian organizing and activism in Canada.
Let us be clear. We will not be deterred by Israeli's designations or by smear campaigns such as this. We stand with Khaled Barakat. We stand with the Palestinian people, their resistance, and their 4,500 Palestinian prisoners, leaders of the resistance and of the movement for justice and liberation in Palestine, from the river to the sea.   Click here to read the full Samidoun statement. 
In response, he Canada Palestine Association, together with the Canadian Foreign Policy Institute, Just Peace Advocates, Palestinian and Jewish Unity and BDS Vancouver – Coast Salish, launched a collective statement of solidarity in support of Palestinian writer Khaled Barakat and Samidoun Palestinian Prisoner Solidarity Network in response to a smear campaign from the right-wing newspaper, the National Post, and multiple Zionist organizations. Over 60 organizations have already signed on!
You can take action in support of the statement and in defense of Khaled Barakat and Samidoun by sending your letter to Canadian PM Justin Trudeau and Public Safety Minister Marco Mendicino to tell them that you join with the 60 organizations that have called to "Stop the Smear Campaigns against Palestinian Advocacy". Over 4,700 letters have already been sent, but we need to make the message clear.
Click here to send your letter and stand with us!
As the statement notes: 
"Is this renewed attack an attempt to deflect attention from the multiple student union resolutions in support of Palestine at major Canadian universities? Or an effort to distract from the growing number of organizations that have expressly condemned Israeli practices as apartheid, such as Amnesty International? Or a distraction to cover up Israel's continuing ethnic cleansing, most recently in the villages of Masafer Yatta?"
The new statement calling for an end to these ramped-up smear campaigns is supported by over 60 diverse solidarity and community groups in Canada and abroad, as well as prominent individuals like Roger Waters, Jonathan Kuttab and Tony Greenstein.
And join us this Friday, May 13 for a webinar at 1 pm Pacific/4 pm Eastern (10 pm Europe, 11 pm Palestine) -- Double Standard: Canada's terrorist list, the IDF, Palestinians and the case of Khaled Barakat, organized by the Canadian Foreign Policy Institute and Just Peace Advocates. Hear from Miko Peled, Yavar Hameed and Khaled Barakat on the campaign of incitement and anti-Palestinian racism. Click here to register!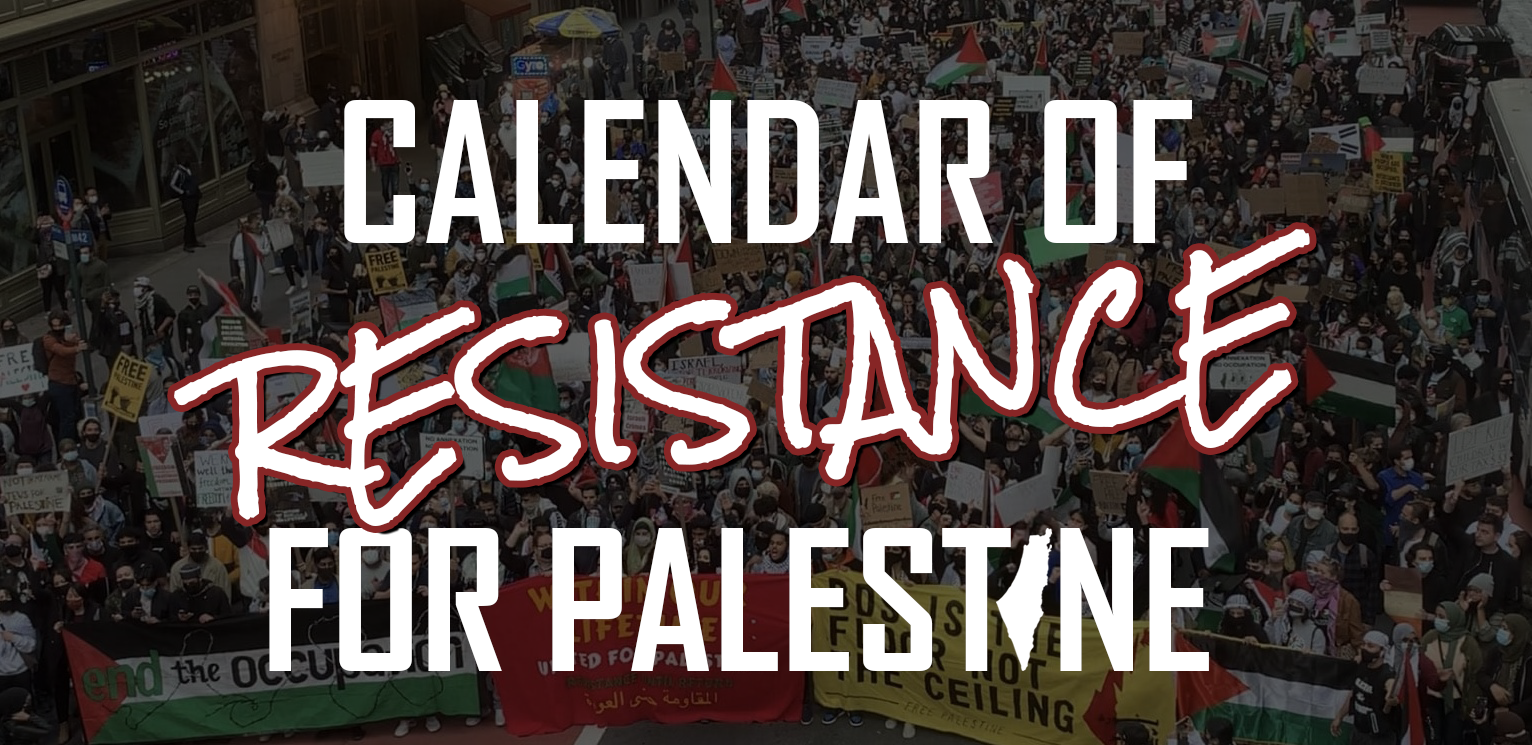 Samidoun Palestinian Prisoner Solidarity Network urges all Palestinian, Arab and international supporters of Palestine to escalate their organizing and struggle to confront massacres and ethnic cleansing and support Palestinian resistance throughout the entire land of Palestine.
(The list below will be constantly updated – please share the link with your friends and comrades!)
These events are organized by many groups around the world — wherever possible, we link to the original organizers so that you can be in direct contact! Please note: this list is for action-oriented/outdoor/protest actions specifically.  Of course, some of the most important direct actions -- like those of Palestine Action -- are not announced in advance!
Check out our events listings for the webinars, discussions and meetings we're involved in! 
TO ADD YOUR EVENT TO THE CALENDAR: Email us at samidoun@samidoun.net, message us on WhatsApp at +32466904397 or tag us on social media! We know that these events are mainly international and that the Arab people are marching everywhere for Palestine — we will be honored to add Arab events.
Wednesday, May 11
Britain
Thursday, May 12
United States
Friday, May 13
Australia
Saturday, May 14
Austria
Belgium
Britain
Canada
Catalonia/Spain
France
Germany
Ireland
Italy
New Zealand
Norway
South Africa
Sweden
United States
Sunday, May 15
Australia
Belgium
Britain
Canada
Denmark
Germany
Italy
Netherlands
New Zealand
Spain/Spanish State
Sweden
United States
Samidoun chapters, affiliates and links around the world:
Samidoun Palestinian Prisoner Solidarity Network has chapters and affiliates in the United States, Canada, Germany, France, Sweden, the Netherlands, Belgium, Greece, Spain, Palestine and Lebanon and we work with groups around the world. Would you like to form a local chapter or become an affiliate? Contact us at samidoun@samidoun.net.
Click here to support Samidoun's work with a donation. 
Alternately, checks and money orders may be written and mailed to:
AFGJ/Samidoun
225 E. 26th St., Ste. 1
Tucson, A.Z. 85713-2925
U.S.A.